Marnin Studio x Willie Weston Collaboration
Marnin Studio x Willie Weston Collaboration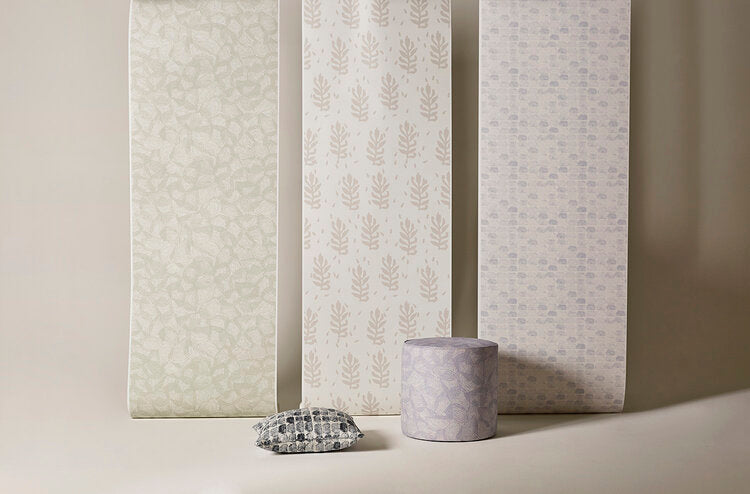 At the end of 2019 Willie Weston launched their latest collection of beautiful upholstery, drapery and wallpaper in collaboration with Marnin Studio. The range features designs by artists April Jones, Amanda Smith and Lee-Anne Williams inspired by the Fitzroy Valley landscape in the heart on the Kimberley region.
Image source: Willie Weston
April Jones is a Gooniyandi and Walmajarri woman from Bayulu Community. She spent many years teaching in Port Hedland, Broome and Fitzroy Crossing before arriving at the Marninwarntikura Women's Resource Centre, wanting to learn how to sew. Seven years later she began working with Marnin Studio, creating block and screen prints of local bush tucker, flora and fauna. April has two designs in our Fitzroy Crossing Collection, River Stones and Rainbows.
Image source: Willie Weston
Amanda Smith first began dying fabrics with local found materials, carving lino blocks and screen printing onto fabrics in 2014. In 2017 she was a founding member of the Design Within Country fashion project, designing a collection of fabrics, garments and jewellery for the Darwin Aboriginal Art Fair fashion parade. A Gooniyandi woman and proud member of Bayulu Community, Amanda is committed to supporting young girls in her community to build their confidence and teach them the skills she's learned through her work. Amanda's design for our Fitzroy Crossing Collection is called Spinifex.
Image source: Willie Weston
Lee-Anne Williams, of the Bunuba and Wangkatjunka language groups, began her career painting boab nuts a and then moved onto screen and lino printing on textiles before being a founding member of Design Within Country fashion project in 2017. Lee-Anne aspires to running her own fashion business in order to support her community. Lee-Anne's design for our Fitzroy Crossing Collection is called Water Levels.
Image source: Willie Weston                              Image source: Marnin Studio
Willie Weston works with Indigenous artists from around Australia to create fabrics and wallpapers for residential and commercial interiors. Paying artists for each metre produced,  Willie Weston help contribute to ongoing income str­eams for Indigenous artists outside their main art practice.
To see the full collaboration and to purchase go to - https://www.willieweston.com/
Image source: Willie Weston