Senator Patrick Dodson Visits Marninwarntikura Women's Resource Centre
Senator Patrick Dodson Visits Marninwarntikura Women's Resource Centre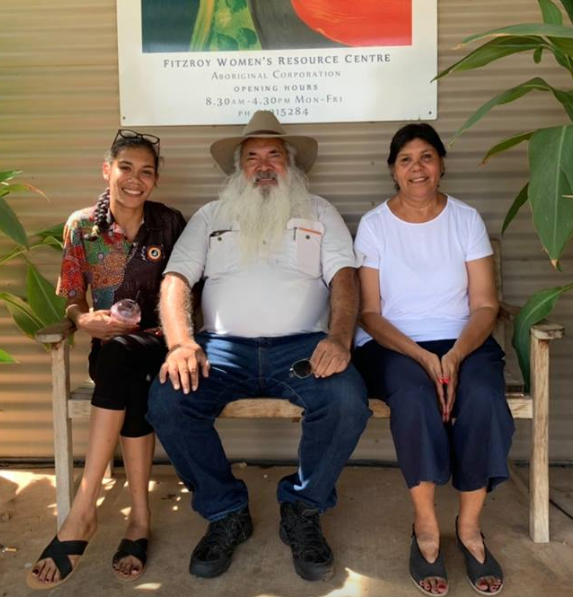 Earlier this month, we welcomed the Shadow Assistant Minister for Indigenous Affairs and Aboriginal and Torres Strait Islanders, Senator Patrick Dodson, to Marninwarntikura. Senator Dodson sat down with our CEO, Emily Carter, to talk about the strengths of our community and our ideas on how best to respond to the complex challenges that Fitzroy Crossing and the wider Fitzroy Valley are currently facing. The importance of strengthening Aboriginal organizations like Marninwarntikura to create locally driven sustainable solutions was a prominent topic throughout the meeting.
In light of the underwhelming results of the 11th Closing The Gap report which revealed minimal progress in reducing the disparity between the Indigenous and non-Indigenous populations surrounding health and education in particular, we hope that this meeting will be the first of many in 2019, bringing together organizations on the ground and representatives in government to establish more open and constructive dialogue that is shaped by Aboriginal people and builds on our strengths as a community.
In Canberra last Thursday, Senator Dodson called for self-determination to
"empower those who directly service their communities and deliver the changes that will lead us together, across Australia, to bring economic, social and health indicators for First Nations peoples closer to the norms of the mainstream of Australia."
With regards to those grassroots organizations working to close the gap in Indigenous communities, Marninwarntikura in particular received a special mention. Senator Dodson's comments in the Senate can be viewed in full here.

We are always thrilled to share our stories with respected leaders such as Senator Dodson and are constantly trying to engage government to support the important work of empowering our women, their families and communities.