Melbourne Designers Arrive in FX
Melbourne Designers Arrive in FX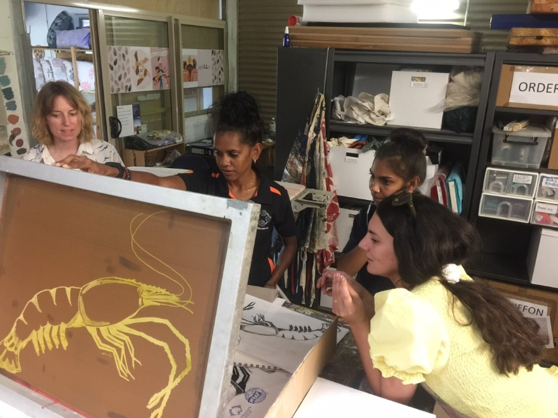 The Design Within Country (DWC) fashion project has a strong emphasis on long term cross cultural collaborations between urban and remote creatives.
 Now in its third year, Design within Country DWC is really pleased to welcome back to the Valley our Melbourne based designer friends Lois McGruer- Fraser (Lois Hazel),  Briedi McCrostie (Lott Studio), Breeze Powell (Post Sole) and Lauren Cassar (Mirador).
Together this team has been working with FX based artists to create the 2019 collection for the Darwin Aboriginal Art Fair and Melbourne Fashion Week.
 The collection has been developed at Ngumpan Gallery as part of a broader push to reignite this space.
 The clothes, shoes and jewellery created so far are just beautiful. DWC were excited to be presenting the outcomes of this collaboration at the Fitzroy Valley District High School as part of the school's NAIDOC Week celebrations last Month.
The designs are currently in Darwin about to be showcased at the Darwin Aboriginal Art Fair (DAAF).